2,000 patients treated: positive outcomes and expansion plans
All room capacities for the treatment of cancer patients have been available for one year at the Wiener Neustadt Ion Therapy and Research Center MedAustron and a total of 2,000 patients have already been treated here with protons or carbon ions. The success of the therapy to date, the results of clinical studies and further development and expansion plans were reported today at a press conference with Deputy Governor Stephan Pernkopf.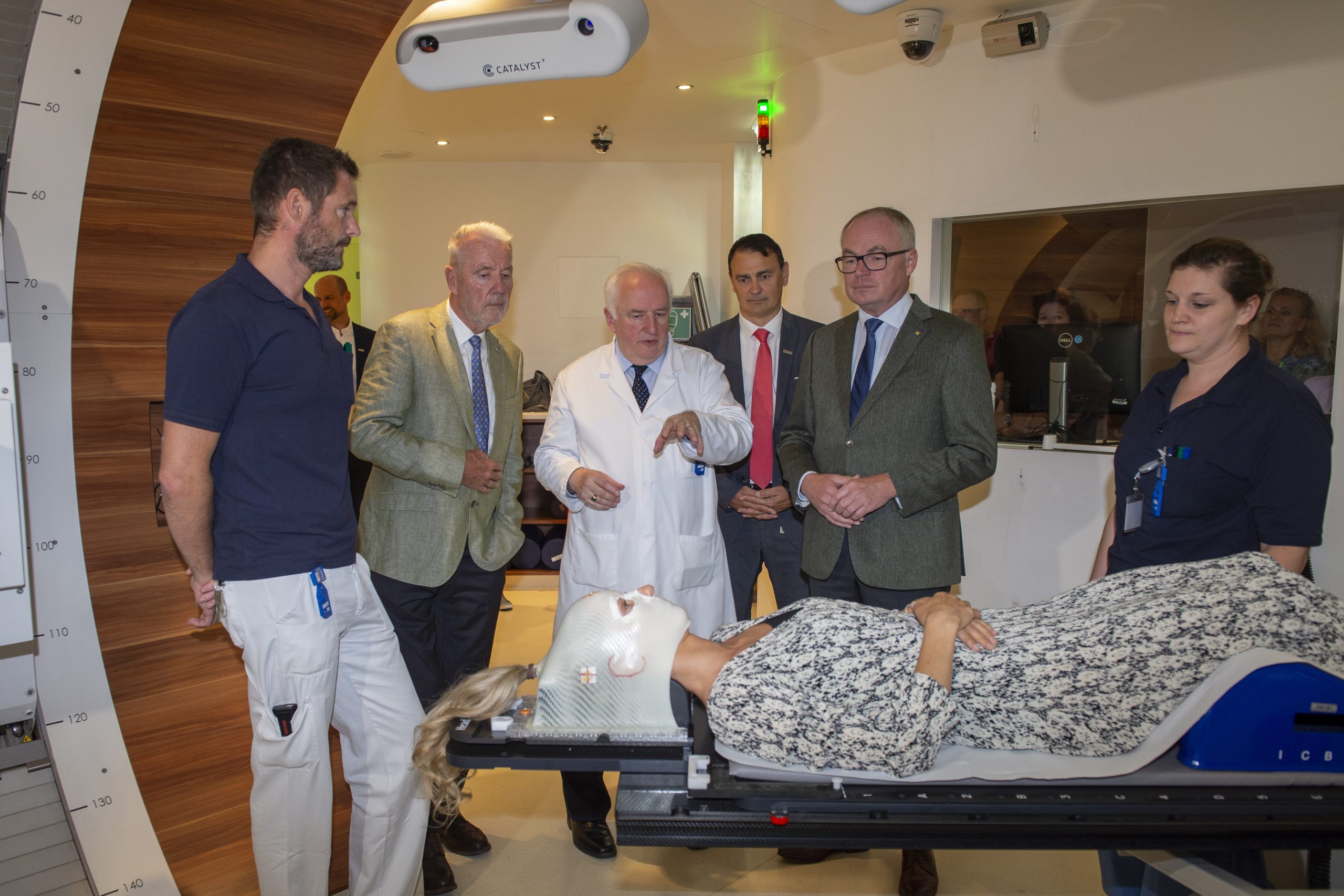 He opened by saying: "All the answers to the questions of the future – whether climate change, artificial intelligence or curing diseases – lie in science and research." Pernkopf went on to emphasize that MedAustron is a showcase project because
"research and work is done here directly for people, work that gives courage and hope to sick people and their relatives."
n addition, the future development of MedAustron goes hand in hand with the three major goals for science policy in Lower Austria – to be a magnet for top researchers, to focus on the topic of health and to bring findings from science and research to the people.
After almost seven years, the ion therapy applied at MedAustron as a complementary method for the treatment of cancer is now well established in the domestic oncological therapy landscape. Patients from all over Austria, but also from abroad, are treated with this form of radiation therapy at MedAustron – mainly when they suffer from localized tumors close to radiation-sensitive tissue or organs. During this period, a large number of the 2,000 patients treated were included in a prospective registry study, the data from which have now been published and have generally confirmed ion therapy as a safe treatment method and shown promising results in terms of tumor control and preservation of quality of life.
In the group of patients with head tumors, for example, it was shown that neurocognitive performance and resilience can be preserved – from visual-motor coordination to short-term memory and word fluency. A specific group of tumors at the base of the skull shows 90 percent local control three years after completion of therapy. In addition to medical factors, studies of the financial toxicity of therapy also show that patients experience rapid social and financial re-integration after completing their treatment.
Medical and Managing Director Eugen B. Hug commented on the results:
"With the collected and published data, we are continuously generating more evidence for our therapy method, and the results published so far are only the beginning. They show that we can treat serious cancers effectively and safely while maintaining or improving the quality of life of our patients."
The most common cancers currently treated at MedAustron include tumors of the central nervous system, ENT, and re-irradiation of tumor recurrences; in addition, the majority of all children and adolescents requiring radiation therapy are treated at MedAustron. In the coming year, new additional indication groups, such as pancreas, liver or lung, will successively be added to the range of therapies and new treatment concepts, for example for the treatment of eye tumors, will be established. Another highly innovative method is the stimulation of the patient's own immune system by partial tumor irradiation with particles.
Currently, about 50 irradiations are performed daily in three treatment rooms at MedAustron. However, since the highly complex particle accelerator cannot supply all three rooms with the therapy beam in parallel, the center will be expanded by an additional, independent therapy room: a compact machine will be purchased for treatments with protons; the environmental impact assessment for this expansion project is currently underway. The expansion is scheduled to begin next spring, and if everything goes according to plan, patient operations will start in 2026.
"Today, MedAustron's impact extends far beyond Wiener Neustadt, Lower Austria and Austria, and the team is making many efforts to secure this top international level in the long term. In this context, the expansion of the center by another treatment room demonstrates that all efforts ultimately serve the goal of giving seriously ill people hope in their fight against cancer",
Chairman of the Supervisory Board Klaus Schneeberger remarked on the expansion plans.
On the technical side, the team is working on implementing requirements for the existing particle accelerator that go hand in hand with the broadening of the range of therapies. Unlike accelerators for conventional radiation therapy or pure proton therapy, developments on the machine are implemented in-house by experts. This also applies, for example, to the preparation of the accelerator for further investigation of helium ion radiation, which will be a central subject of translational research in the coming years, or to the development of entirely new accelerator systems, with which MedAustron would also like to position itself more strongly as a system provider in the future via a separate business unit.
Managing Director Ludwig Gold emphasized:
"We have an excellent team of technical experts, which puts us in the fortunate position of being able to continuously improve our own therapy accelerator and keep it fit for the future, and also to develop concepts for new accelerators with which we would like to succeed in the expanding international particle therapy market."