4-Country-Meeting on Particle Therapy
For two days, the Wiener Neustadt Ion Therapy and Research Center MedAustron invited radiation oncologists and medical physicists from the neighboring countries of Hungary, Slovenia and Slovakia to a conference dedicated to the exchange of information on the therapy method and potential joint research projects.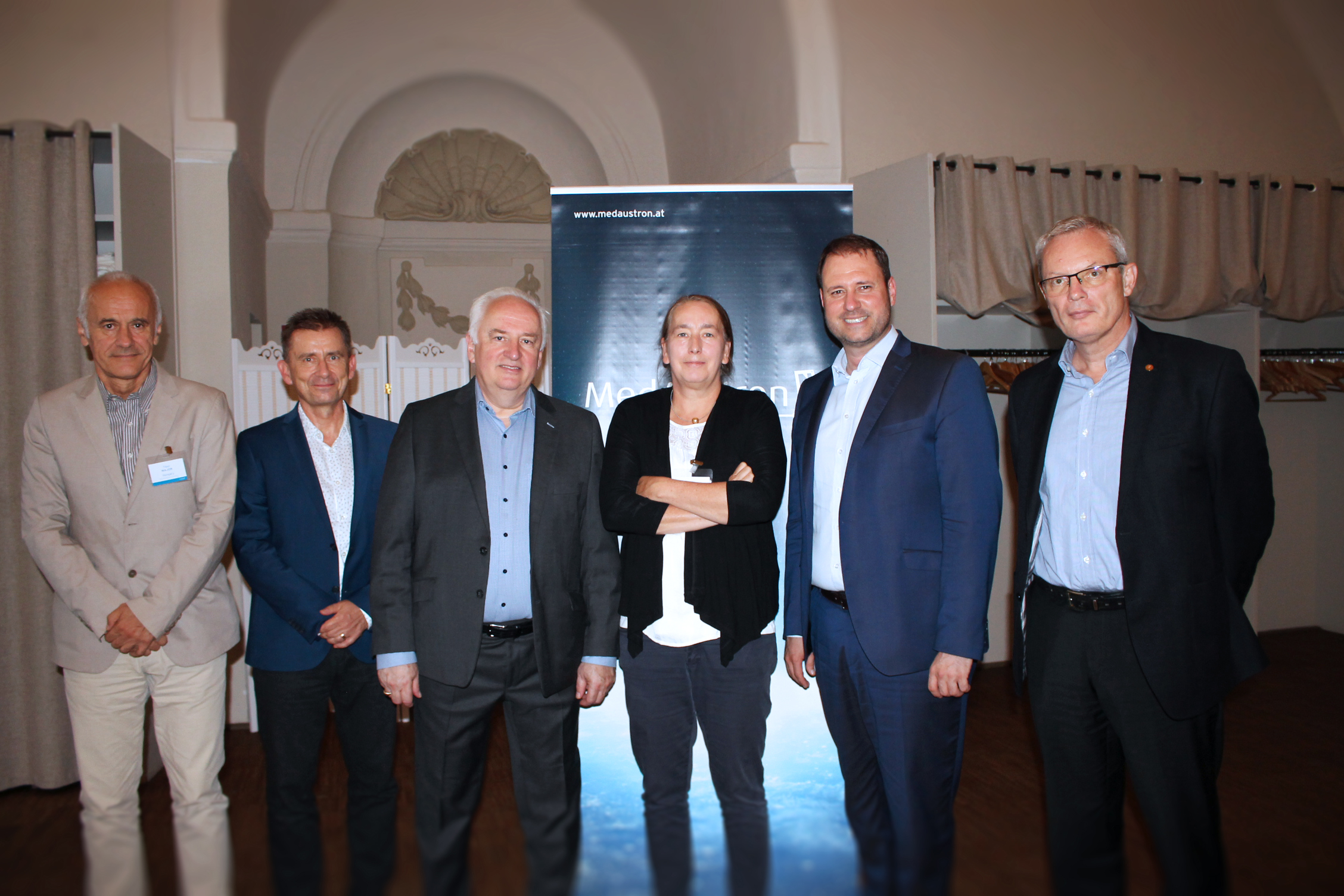 The "4-Country-Meeting on Particle Therapy", which was successfully held a few days ago, aimed to serve as an information and exchange platform. Clinical aspects of particle therapy, radiotherapeutic care in the participating countries as well as topics of translational research were on the agenda.
The first day of the conference was held at the Hotel Gálantha in Eisenstadt. At the beginning, all participating countries presented their specifics in the health care system and in radiotherapeutic care, before three sessions dealt with the specifics of therapy with protons and carbon ions, suitable indications and case presentations. The event concluded with a lively panel discussion on the paths and hurdles that must be overcome for treatment abroad in the respective countries. None of the three participating countries has its own ion therapy services and MedAustron has already treated patients from Hungary, Slovenia and Slovakia.
The second day of the conference was held at the Wiener Neustadt Technology and Research Center. In addition to medical-physical aspects of ion therapy, innovative radiotherapeutic approaches and specifics of radiotherapy in children were on the agenda, before the afternoon was dedicated to research projects in translational oncobiology and discussions about future scientific collaborations. Participants also had the opportunity to look behind the scenes of the MedAustron center.
The audience consisted of senior radiation oncologists and medical physicists from Hungary, Slovenia, Slovakia and Austria, whose response to the meeting was extremely positive. MedAustron's Medical Director, Eugen B. Hug, concluded positively:
"I am very pleased that so many participants accepted our invitation. We not only heard top-class contributions, but also had fruitful discussions. I am confident that the connections made will lead to more intensive collaboration and I look forward to our new joint projects with excitement."
He further commented, "I would also like to express my sincere thanks to Christian Sagartz, who provided the impetus and without whom this meeting would not have been possible in this form."
The idea for the 4-country meeting had emerged in the course of three delegation trips initiated by Christian Sagartz, Member of the European Parliament, to Hungary, Slovenia and Slovakia, on which he had been accompanied by MedAustron representatives. Sagartz is a member of the parliamentary special committee on cancer and, in this capacity, promotes the networking of European countries in order to pool resources in healthcare and science.